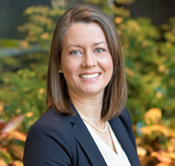 Jennifer joined the Butterfield Foundation in March of 2016.  In her role as Vice President of Programs, her duties include overseeing the domestic and international granting, along with the Foundation's initiatives and internship programs.
Her nonprofit experience began over 15 years ago as the Executive Director of Southwest Symphony in Hobbs, NM.  From there, Jennifer worked for four years as the Grant Officer at the J. F Maddox Foundation, a private foundation also located in Hobbs, NM.  Prior to joining the team, Jennifer worked as the Director of Programs & Marketing for Putnam City Schools Foundation in Oklahoma City for almost four years.  She has a Bachelor's degree in business with a minor in marketing.
Jennifer and her husband have three adult children and live in Edmond, OK.