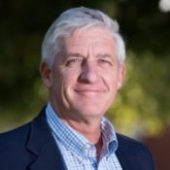 Hal Hoxie serves as the Foundation's third president. He comes to Butterfield from McPherson, Kansas, where he served as President at Central Christian College. Before stepping into the role of college president, Hal spent his career in the United State Air Force. Retiring as a Colonel, he most recently served as the division chief, in the office of Legislative Liaison, stationed at the Pentagon in Washington D.C. During his USAF career he served in many capacities including Squadron Commander, Homeland Security Division Chief and T-38 Instructor Pilot/Flight Examiner.
Colonel Hoxie is a 1979 graduate of Central Christian College and earned a B.S. in Business Administration and Economics from Eastern Oregon State College, an M.A. in Sports Administration from University of Northern Colorado, an M.S. in Political Science from Air Command and Staff College, and an M.S. in Strategic Studies from Marine Corps University.
An accomplished athlete, Hoxie holds national coaching certifications in baseball, basketball, soccer and sports training. He coached club and high school soccer for 15 years, basketball for 4 years and baseball for 2 years. His hobbies include golf, aviation and coffee. Hal and his wife, Kathy, have four adult sons, four daughter-in-laws and ten grandchildren.